Bonner Frank Fellers &
Psychological Warfare Leaflets in
World War II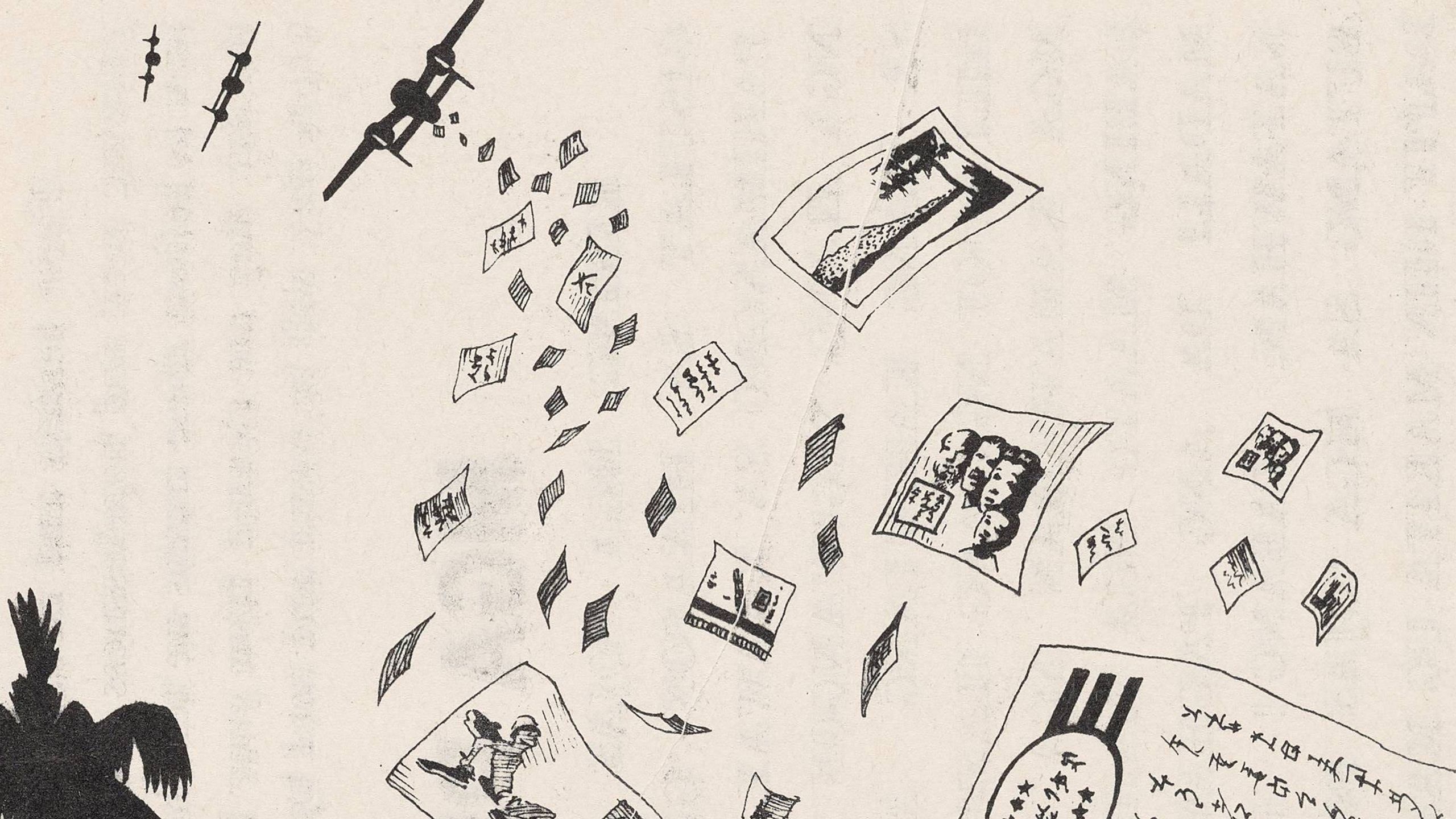 Please note that some language in the following archival material may be culturally insensitive or offensive to some viewers. It is presented as it exists in the original documents for the benefit of research. The material reflects the culture and context in which it was created. More information available at:
Statement on Descriptive Practices and Potentially Harmful Language.
---
Below excerpt from Professor Tsuchiya's The Pacific War Read from Propaganda Leaflets against the Japanese (対日宣伝ビラが語る太平洋戦争) (Tōkyō: Yoshikawa Kōbunkan, 2011)
Brigadier General Bonner Frank Fellers served as military secretary and head of the psychological warfare drive against Japanese combat troops and was a member of General Douglas MacArthur's staff from 1943 to 1946. He wrote a paper titled "The Psychology of the Japanese Soldier" in 1929, which demonstrated a deep understanding of the Imperial Japanese Army and psychological warfare. In New Guinea, in April 1944, Fellers devised the psychological warfare division's Hollandia Operation. Under his leadership, Hollandia formed the core of the US Army's psychological operations against the Japanese through the eventual occupation of Japan.
Fellers defined psychological warfare "as all activity directed against the enemy except guerilla and orthodox warfare, and physical sabotage." Based on this principle, he devised a plan explicitly aimed to "(a) assist in the expansion of the secret intelligence service; (b) assist by creation of diversions; (c) assist in the supply and coordination of guerrilla activities; (d) sabotage Japanese equipment and installations; (e) exploit Japanese soldier psychology." He did not limit the types of propaganda media employed but took advantage of a broad range, including newspapers, leaflets, radio, loud speakers, and motion pictures.
Fellers produced Basic Military Plan for Psychological Warfare in the Southwest Pacific Area to make these guidelines known across the organizations of the Allied forces and explicitly define the Psychological Warfare Branch's propaganda principle. In a memo to "C/S" [unidentified] from Fellers dated June 4, 1944, he lists the objectives of his branch as "(a) to weaken the enemy's will to resist; (b) to influence oppressed peoples to cooperate; [and] (c) to mislead the enemy so as best to further our military effort. The principles followed in implementation of objectives are (1) adhere strictly to the truth in the presentation of news; (2) seek to avoid enemy retaliatory measures against oppressed peoples. Particularly attitude toward Japanese should (1) create doubt as to the infallibility of the Emperor but ignore rather than attack him; (2) attack the military clique and individual militarists; (3) attack officers for the abandonment of men." Fellers believed "Oriental peoples" would respond favorably to the occupying forces from the West by understanding Western generosity and liberty. This belief was that of an American and a Quaker in the face of the Japanese-promoted Greater East Asian War, which was to create an "Asia for Asians."
The propaganda leaflets targeting the Japanese were distinguishable from those distributed to Allies, neutral nations, and Japan's occupied territories. The mockery found in depictions of the Japanese in the latter aimed to convey Japanese brutality and inhumane behaviors, to convince viewers of the legitimate causes for the war. On the contrary, propaganda leaflets aimed at enemy Japanese focused on depicting Japanese as ordinary people without derogatory exaggerations and on disseminating objective facts. Even the tone of the voice used was softer for the Japanese.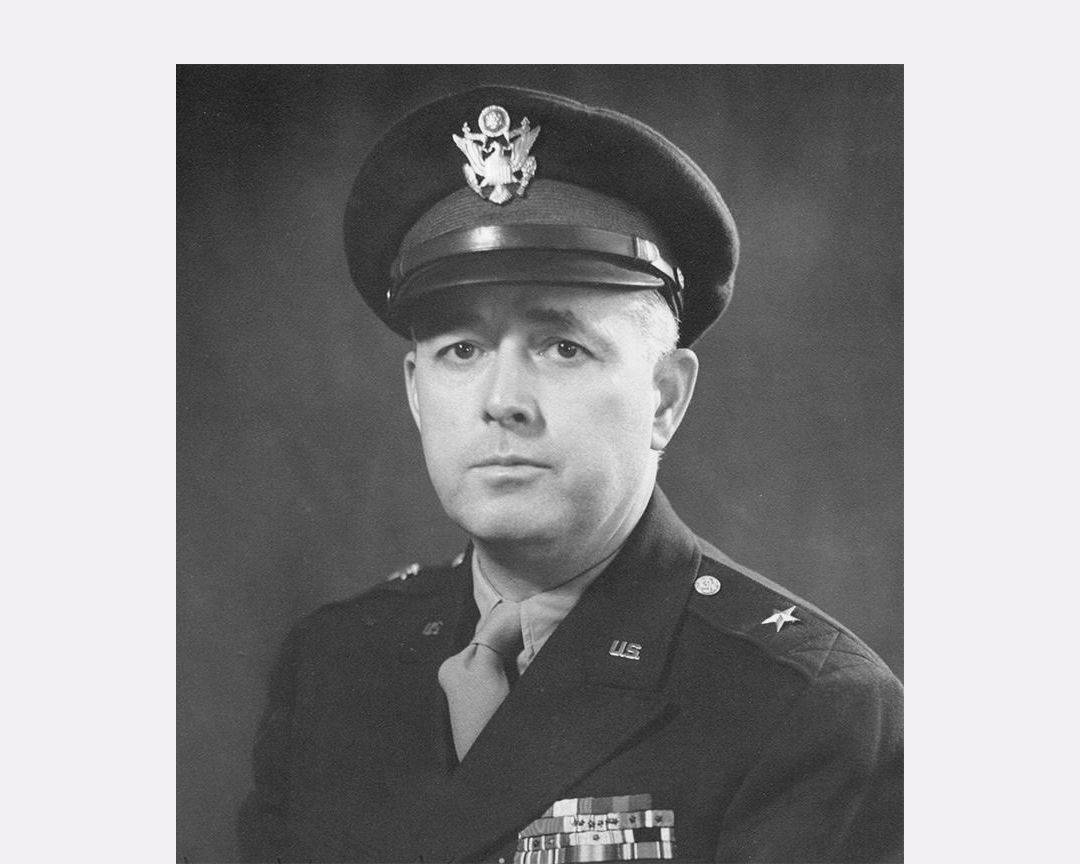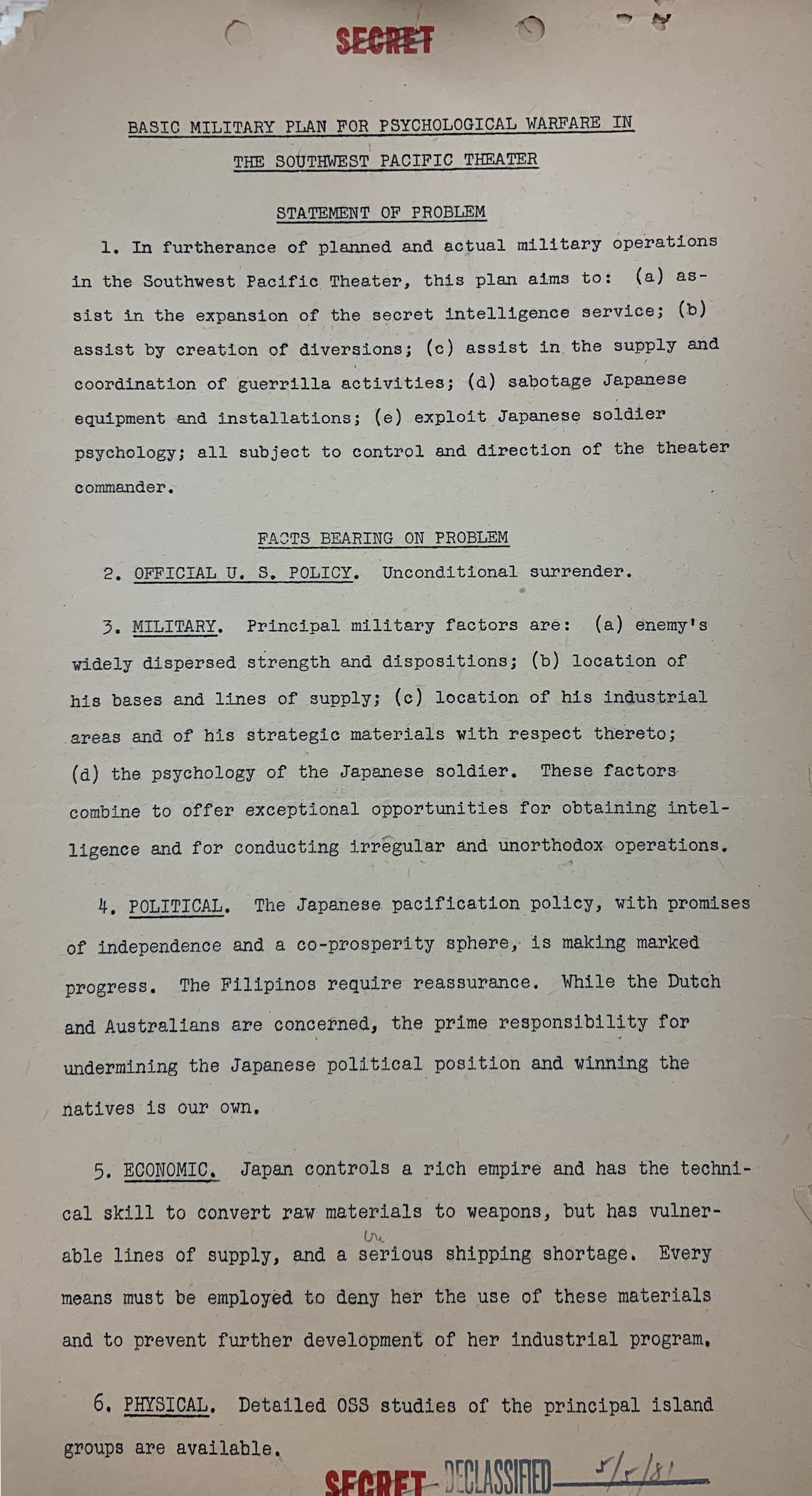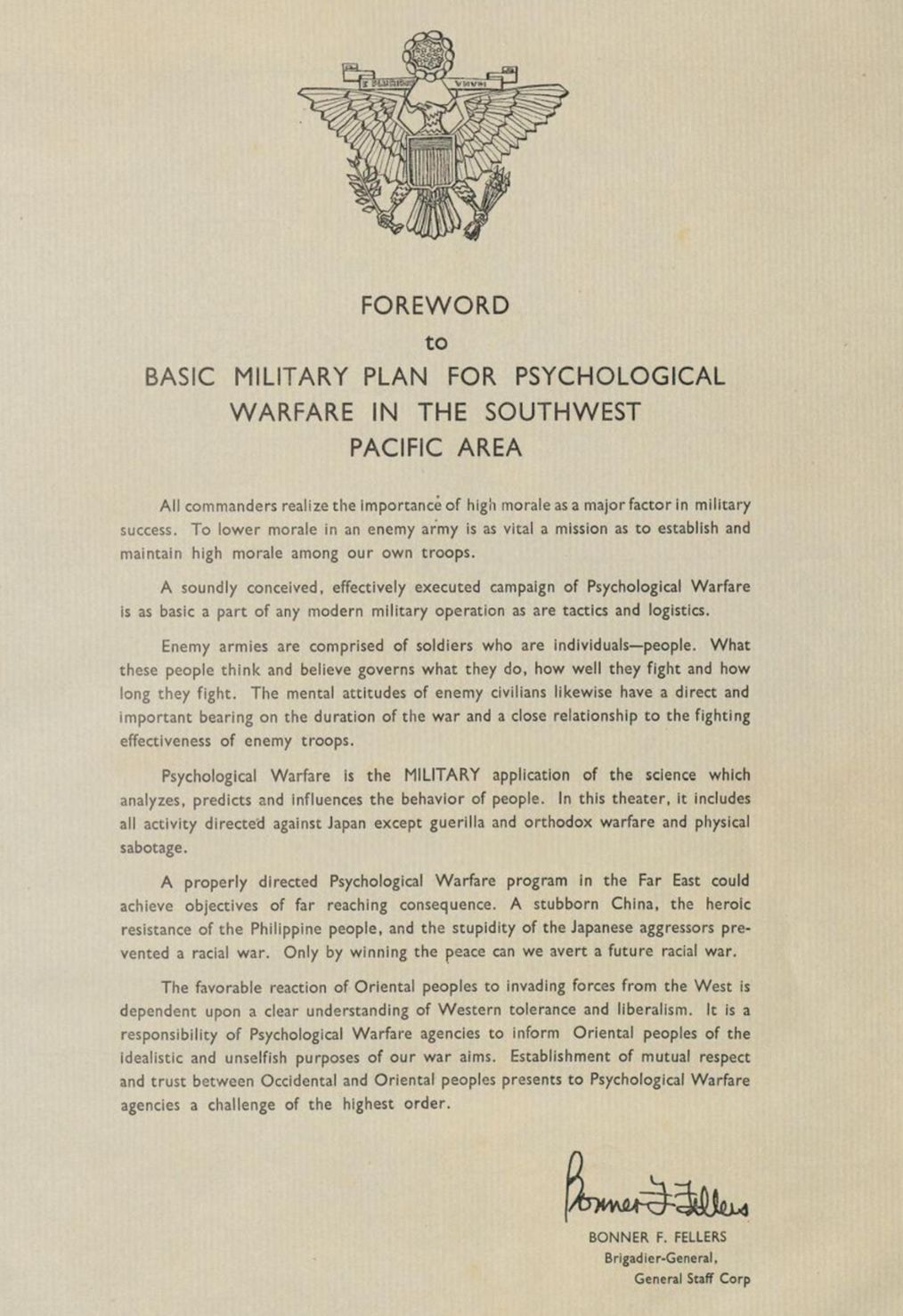 ---
Psychological Warfare Branch Leaflets
The propaganda leaflets produced by Bonner Fellers's team from 1944 through 1945 numbered in the thousands, yet their ephemeral nature meant that few copies survive today. Sets of these leaflets with US Army documentation can be found in some archival repositories in both the United States and Japan, including the Hoover Institution Library & Archives (where the Fellers papers are housed) and the National Diet Library, Tokyo. Research, digitization, and analysis by scholars continues to be conducted on both sides of the Pacific. Below we share a joint project by scholars at Waseda University, Tokyo, and the Hoover Institution Library & Archives, Stanford University. A selection of these leaflets has been chosen to bring together the text searchability in both Japanese and English in one place for greater accessibility to the material.
Leaflet No. 4-F-8
Distribution Instructions
A creative yet straightforward way to illustrate a propaganda leaflet is by showing exactly what the reader may experience. This leaflet provides instructions in both English and Visayan for the people in the central Philippines to understand the purpose of the Allied propaganda leaflets and to encourage the islanders to place them where Japanese soldiers would find them. This leaflet accurately shows Allied aircraft (P-38 fighters) dropping leaflets and newspapers in the vicinity. Notably, not just any illustration was used for the falling leaflets—the design intentionally includes imagery from other leaflets in use at the time. The illustration of this leaflet was intended to inform Filipinos about leaflet distribution to the Japanese, and a copy was included in each pack of 20 leaflets dropped in the region beginning in February 1945.
Backside of Leaflet
FILIPINOS
These leaflets and newspapers written in Japanese are to let them know the growing peril and hopelessness of their situation. The Jap officers do not wish their men to believe these truths we tell them. It is best they should know. It will hasten the day they are cleared from you land. Assist by placing the papers and leaflets where they will be found and read by the Jap.
MGA PILIPINHON
KINING MGA "OJAS BOLANTES" UG MANTALAAN NGA GISULAT SA HINAPON GITUYO PAGHULAD ARON SA PAG PAHIMANGNO SA KAAWAY SA NAGAKADAKO NGA KALISDANAN NGA ILANG SAGUVANGON UG SA PAGKA WALAY KALAUMAN SA ILANG KAHIMTANG. ANG MGA "OFICIALES" HAPONANON DILI BUOT NGA ANG ILANG MGA SONDALO MAHIBALO NIINING MGA KAMATUORAN NGA AMONG ISUGILON KANILA. APAN LABING MAAYO NGA MAHIBALO SILA, KAY SA INGON NIINI MADALI DA ANG PAGHAWAN KANILA SA ATONG YUTANG NATAWHAN. TABANG! BULIG! BULIG PINAAGI SA PAG BUTANG SA MGA "OJAS BOLANTES" UG MANTALAAN SA MGA DAPIT DIIN MAKITA UG MABASA SA MGA HAPON.
Leaflet Documentation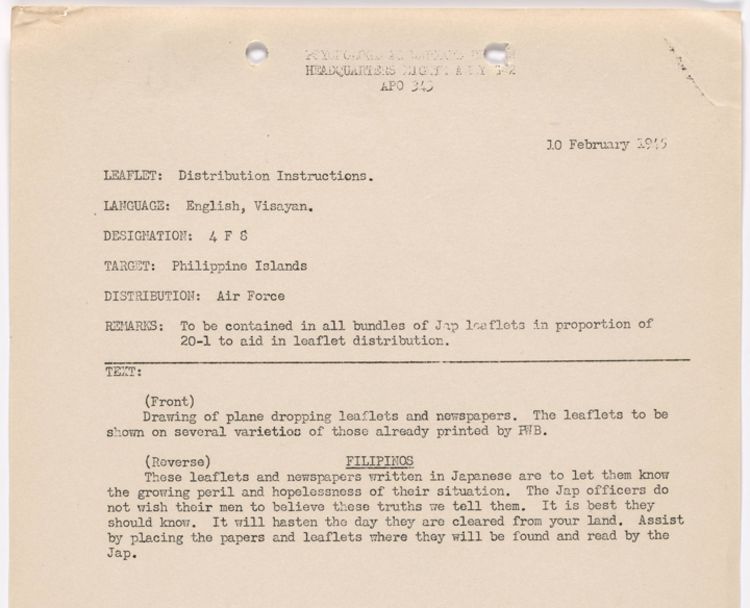 PSYCHOLOGICAL WARFARE BRANCH
HEADQUARTERS EIGHTH ARMY G-2
APO 343
10 February 1945
LEAFLET: Distribution Instructions.
LANGUAGE: English, Visayan.
DESIGNATION: 4 F 8
TARGET: Philippine Islands
DISTRUBTUION: Air Force
REMARKS: To be contained in all bundles of Jap leaflets in proportion of 20-1 to aid in leaflet distribution.
TEXT:
(Front)
Drawing of plane dropping leaflets and newspaper. The leaflets to be shown on several varieties of those already printed by PWB.

(Reverse) FILIPINOS
These leaflets and newspapers written in Japanese are to let them know the growing peril and hopelessness of their situation. The Jap officers do not wish their men to believe these truths we tell them. It is best they should know. It will hasten the day they are cleared from you land. Assist by placing the papers and leaflets where they will be found and read by the Jap.
Leaflet No. 10-J-8
Self Decision
This leaflet is a variant of a repeatedly used illustration of Mount Fuji in Japan (one of the most common visuals used to instill nostalgia in Japanese soldiers). The same image can be seen in other colors and with slight differences on leaflets with entirely different text, such as the following leaflet 36-J-6. However, this one is particularly geared to specifically target the Japanese soldiers defending Luzon in the Philippines, and its text encouraging surrender was tested for effectiveness on Japanese prisoners of war prior to printing.
Backside of Leaflet
決断
勇敢ナ日本兵士諸君!!今ヤ諸君ノ運命ハ切迫シテヰル。無慙ナ最期ヲ遂ゲルカ、山中ニ立籠リ悪疫ニ肉ヲ削リ飢餓骨ヲ徹ス地獄ニ直面スルカ、又ハ將來ノ日本ノ爲ニ生キ延ビルカハ實ニ諸君ノ考ヘ一ツデ決定セラレルノデアル。
「ニユーギニア」「サイパン」及ビ「レーテ」島ノ血戰ハモウ終ツタ。比島ノ決戰場「ルソン」島ノ敗戰モ決定的デアル。士官達ノ諸君ラヘノ約束ハ完全ニ破レ又未來ヘノ名譽アル約束ナド夢デアル ニ全太平洋ニ猛威ヲ振ツタ日本モ今ハドウカ、過去ニ於テハ多数ノ者ガ己ムヲ得ズ無益ナ戰ヒニ露ト消ヘタ。然シ反面デハ進歩的思想ヲ以テ新シイ日本ノ建設ヲ希望スル人々ガ一時的ニ捕虜トナツテ平和ヲ待ツテヰル。
最早士官達デハ眞心カラ諸君ヲ指導スルコトモ救援スルコトモ不可能デアル。日本ノ陸・海・空軍ハ既ニ將兵諸君ヲ見捨テタ。其ノ結果諸君ラノ糧秣物資ハ勿論兵力増援ノ道ハ全ク切断セラレ今デハ撤退ノ見込サヘナイオ氣ノ毒ナ立場デアル何故諸君ハ戰勝ヘノ希望モ生キテ行ウ光明モ喪失シナガラ頑張ツテヰルノデセウ無益ナ横死ノ外ニ何ガアルカ、今コソ潔ク自己ノ進退ヲ決定スベキデアル。狐疑逡巡ハ所詮死デアル。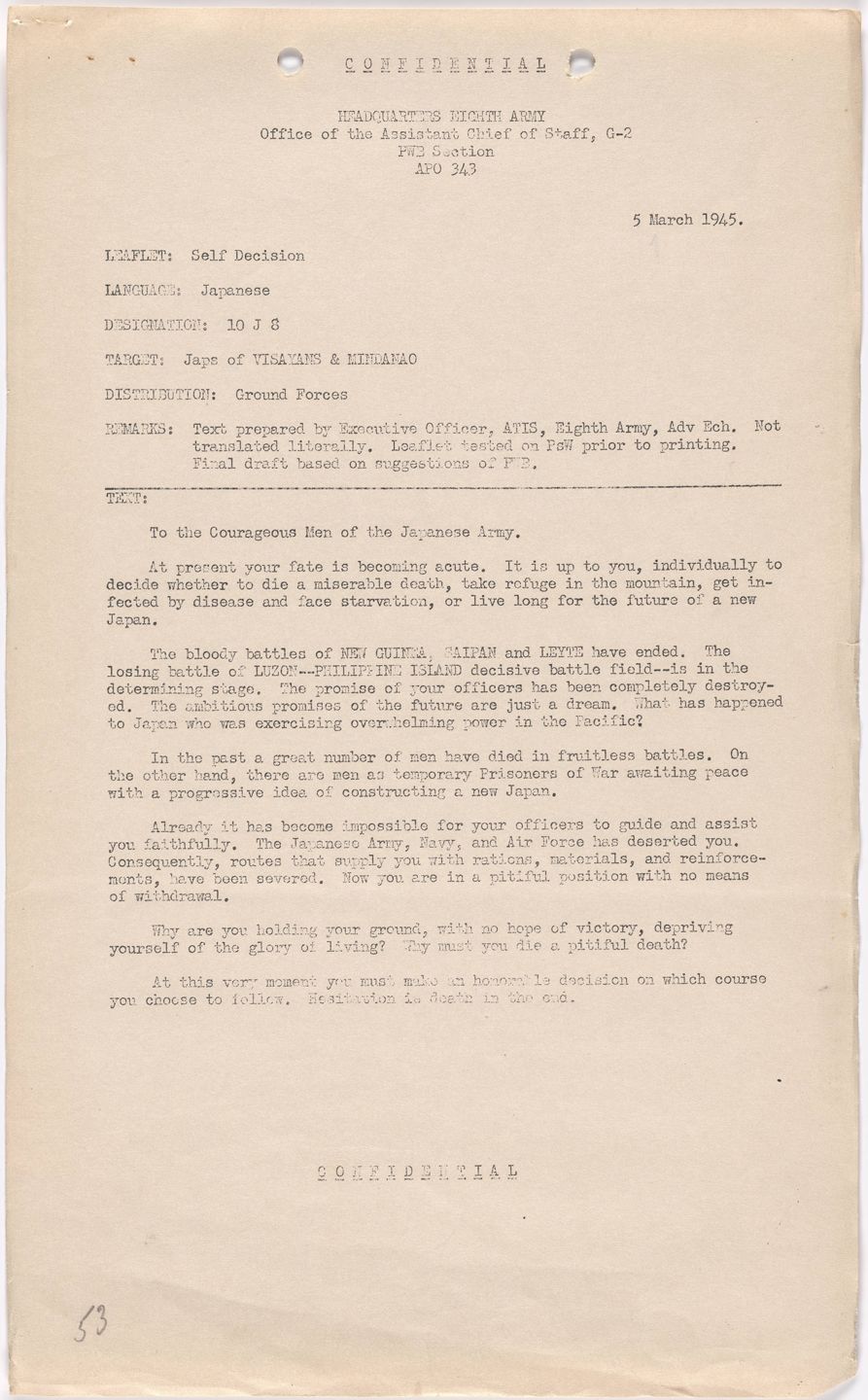 CONFIDENTIAL
HEADQUARTERS EIGHTH ARMY
Office of the Assistant Chief of Staff, G-2
PW3 Section
APO 343
5 March 1945.
LEAFLET: Self Decision
LANGUAGE: Japanese
DESIGNATION: 10 J 8
TARGET: Japs of VISAYANS & MINDANAO
DISTRIBUTION: Ground Forces
REMARKS: Text prepared Executive Officer, ATIS, Eighth Army, Adv Ech. Not translated, literally. Leaflet tested on PsW prior to printing. Final draft based on suggestions of PWB.
TEXT:
To the Courageous Men of the Japanese Army.
At present your fate is becoming acute. It is up to you, individually to decide whether to die a miserable death, take refuge in the mountain, get infected by disease and face starvation, or live long for the future of a new Japan.
The bloody battles of NEW GUINEA, SAIPAN and LEYTE have ended. The losing battle of LUZON--PHILIPEINE ISLAND decisive battle field--is in the determining stage. The promise of your officers has been completely destroyed. The ambitious promises of the future are just a dream. What has happened to Japan who was exercising overwhelming power in the Pacific?
In the past a great number of men have died in fruitless battles. On the other hand, there are men as temporary Prisoners of War awaiting peace with a progressive idea of constructing a new Japan.
Already it has become impossible for your officers to guide and assist you faithfully. The Japanese Army, Navy, and Air Force has deserted you. Consequently, routes that supply you with rations, materials, and reinforcements, have been severed. Now you are in a pitiful position with no means of withdrawal.
Why are your holding your ground, with no hope of victory, depriving yourself of the glory of living? Why must you die a pitiful death?
At this very moment you must make an honorable decision on which course you choose to follow. Hesitation is death in the end
CONFIDENTIAL
Leaflet No. 36-J-6
Aims
This leaflet employs the use of homesickness as its primary psychological tool. Depictions of family members (possibly bringing to mind the parents, wife, and child of a soldier) are captioned by the statement that the United States does not want to hurt Japanese families. While the previous leaflet (10-J-8) illustration of Mount Fuji is depicted on the verso, in this variant it is captioned by a statement clarifying the goals of the United States as peace not conquest. In combination, this leaflet's text and imagery offers the Japanese soldier a view of the people and places left behind in the homeland and the reassurance that they will be safe if the Japanese surrender.
Frontside of Leaflet
米國は諸君及諸君の家族に加害を望まず。
[The United States does not want to hurt you or your families.]
Backside of Leaflet
米國は日本を不欲  
唯攻撃を避け丗界に悠久の平和を求む
[The United States does not want your country. What the United States wants is an end to aggression and peace throughout the world.]
Leaflet Documentation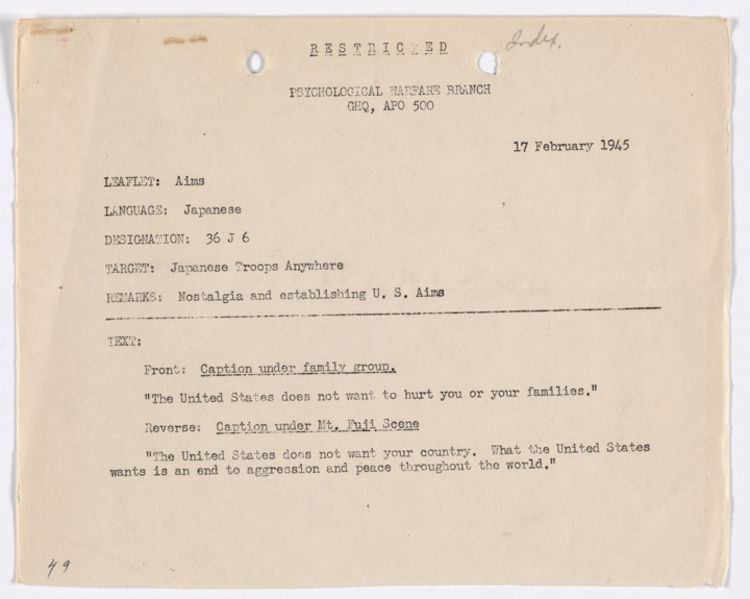 RESTRICTED
PSYCHOLOGICAL WAREFARE BRANCH
GHQ, APO 500
17 February 1945
LEAFLET: Aims
LANGUAGE: Japanese
DESIGNATION: 36 J 6
TARGET: Japanese Troops Anywhere
REMARKS: Nostalgia and establishing U. S. Aims
TEXT:
Front: Caption under family group.
"The United States does not want to hurt you or your families."
Reverse: Caption under Mt. Fuji Scene
"The United States does not want your country. What the United States wants is an end to aggression and peace throughout the world."
Leaflet No. 6-J-1
Abandoned
The poignant portrayal of the lone, gaunt, Japanese soldier on a deserted island clearly reinforces the demoralizing message of this leaflet: that any remaining Japanese soldiers are alone and cut off from their retreating comrades and should seek sanctuary through surrender. The slight upward gaze of the soldier echoes the sentiment on the verso that speaks to the fact that "wild eagles" (Japanese navy aviators) are no longer seen and have left them unprotected. Interestingly, there is a handwritten annotation on this copy which asks "Who did this one? MacA is CinC not Supreme C." The note points out the fact that the writer of this leaflet mistakenly referred to MacArthur as the supreme commander when, in fact, at this time he was only the commander in chief.
Frontside of Leaflet
日本空軍は何處へ [Where are our Ships and Places?]
行つたのだらうか [What is Going to Happen to You?]
Backside of Leaflet
諸君の將來は・・・・・?
南太平洋聯合軍總司令官マクアーサー將軍は先に日本兵士の勇敢なる行動に對し絶讃の辞を洩らしたのが斯かる前途多望な日本兵士諸君が今日の惨状に陷るを余儀なくされたことに對し我々は深く同情の念を寄せざるを得ないのである。
諸君の頼みとしてゐた荒鷲は殆んど姿を見せず米空軍の不断の爆撃を恣にしてしまつた。又日本海軍は其の艦船を基地より後退しつゝあり米軍は順次日本 軍基地に進撃して居る。
其の結果諸君の物資兵力増援の道は斷たれ撤退の見込さへなくなつた。
諸君が深山に立て籠り最後の一戰を交へんとしても惡疫は肉を削り飢餓は骨に徹するの 態となり諸君の立場は増々悪くなるばかりである。
ソロモン諸島ニューギニア島に取残された諸君の戰友達は友軍の艦船と航空機の來援に一縷の望みを掛けながら死んで行つた。
何故諸君も甲斐なき望を心に秘めながら無益な死を遂げなければならないだらうか。
Leaflet Documentation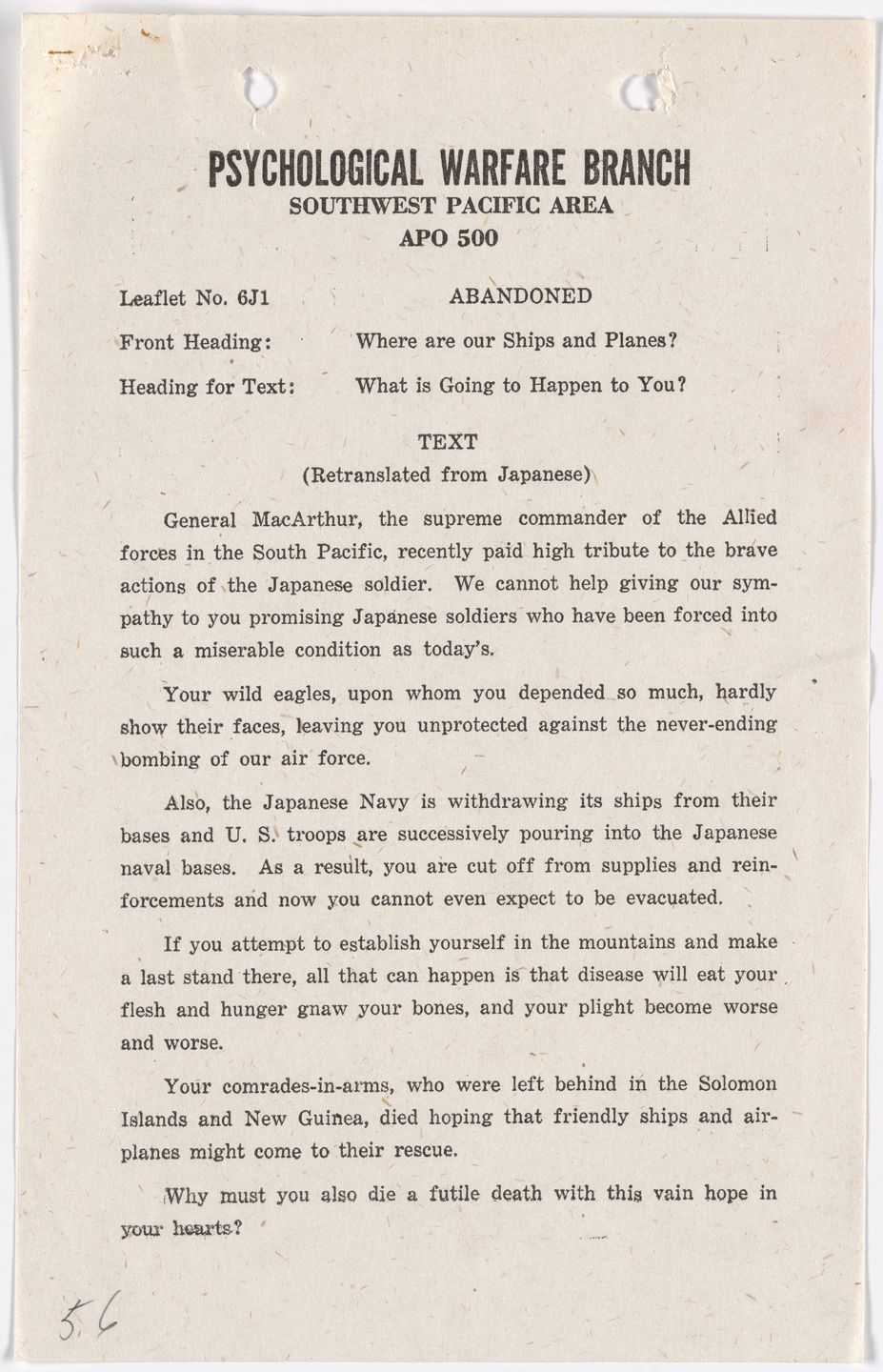 PSYCHOLOGICAL WARFARE BRANCH
SOUTHWEST PACIFIC AREA
APO 500
Leaflet No. 6J1 ABANDONED
Front heading: Where are our Ships and Places?
Heading for Text: What is Going to Happen to You?
TEXT (Retranslated from Japanese)
General MacArthur, the supreme commander of the Allied forces in the South Pacific, recently paid high tribute to the brave actions of the Japanese soldiers who have been forced into such a miserable condition as today's.

Your wild eagles, upon whom you depend so much, hardly show their faces, leaving your unprotected against the never-ending bombing of our air force.

Also, the Japanese Navy is withdrawing its ships from their bases and U.S. troops are successively pouring into the Japanese naval bases. As a result, you are cut off from supplies and reinforcements and now you cannot even expect to be evacuated.

If you attempt to establish yourself in the mountains and make a last stand there, all that can happen is that disease will eat your flesh and hunger gnaw your bones, and your plight become worse and worse.

Your comrades-in-arms, who were left behind in the Solomon Islands and New Guinea, died hoping that friendly ships and airplanes might come to their rescue.

Why must you also die a futile death with this vain hope in your hearts?
Leaflet No. 37-J-6
Luzon Special
Safe-conduct passes were an important segment of leaflets produced in the Pacific theater of the war. Though they originally carried the text "I Surrender," it was realized that the use of the word "surrender" was far less palatable to the Japanese than terms such as "I cease resistance," resulting in many more leaflets produced with that latter message. Yet officers continued to request what was considered the standard surrender pass, such as this example. The front is identical to leaflet no. 8-J-6 but was produced in a smaller scale (8 x 11.5 in.). It was requested by Major Anderson of the US Sixth Army for use on the island of Luzon in the Philippines in February 1945.
Frontside of Leaflet
I SURRENDER
ATTENTION AMERICAN SOLDIERS

THIS LEAFLET GUARANTEES HUMANE TREATMENT TO ANY JAPANESE DESIRING TO SURRENDER. TAKE HIM IMMEDIATELY TO YOUR NEAREST
COMMISSIONED OFFICER
BY ORDER C. G. U. S FORCES
Backside of Leaflet
勇敢な日本將兵諸君に告ぐ。 諸君は猛撃及空襲下にあり諸君の戰闘力の根本になる糧食は缺乏し命の手綱たる彈藥は非常に制限されてゐる。 諸君には空軍及 軍の援助は絶無であつた併乍諸君は其れにも不拘勇敢に奮戰した。諸君達が多数の米軍に對して勇敢に戰ふ事を尊敬する。又吾々は諸君の勇氣と決意に心から低頭する者である然し我軍が大規模な攻撃を開始した場合には諸君の生命線は風前の燈である。 此処に吾軍は再び斯如き忠告をする。若し諸君が吾々の眞意を解し此に同賛すれば國際條約の本に好き待遇をする又武人としての名譽を損じない。 此のビラは米國側へ諸君を安全に導くパスである又更生への第一歩である。 武器を捨て此の紙又は白布を木の先にさして南方へ歩み來れ我前線へ来た場合には両手を高く上げ我兵士の合図に從ふ事。諸君達は衣食医療及び手厚い待遇を受ける事が出來る。此等の諭告に従へば此の一ッのビラで幾名も使用する事が出來る。
Leaflet Documentation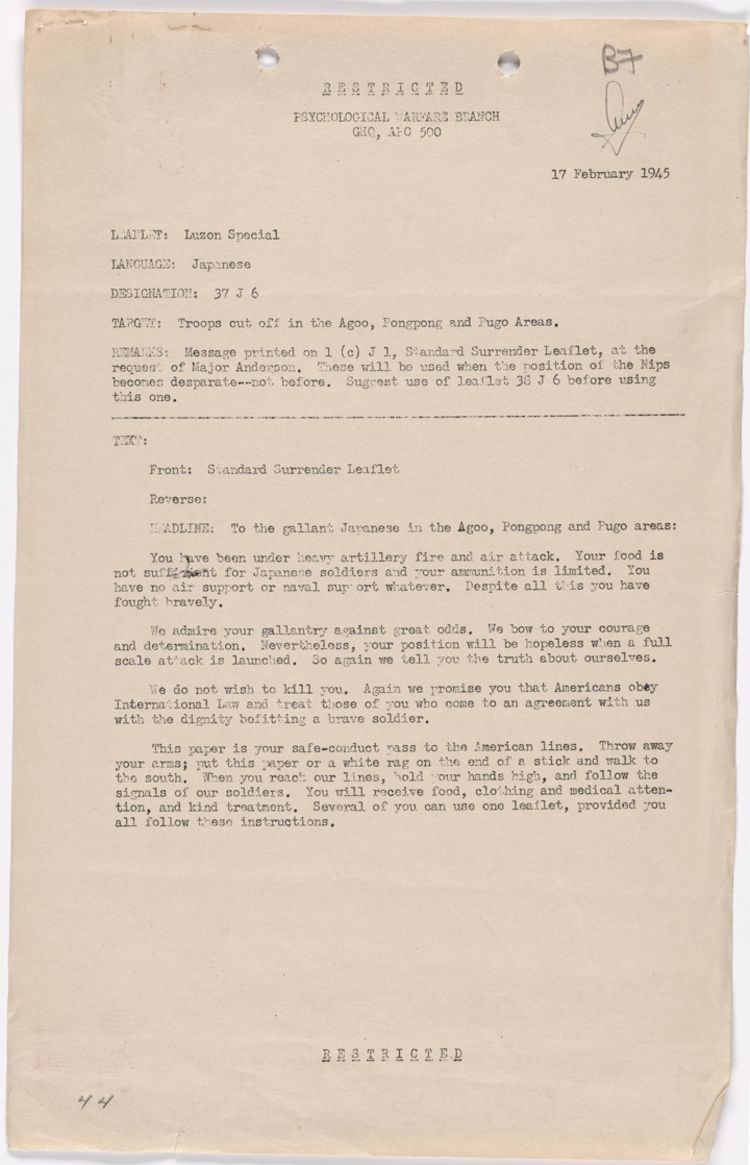 RESTRICTED
PSYCHOLOGICAL WARFARE BRANCH
GHQ, APO 500
17 February 1945
LEAFLET: Luzon Special
LANGUAGE: Japanese
DESIGNATION: 37 J 6
TARGET: Troops cut off in the Agoo, Pongpong and Pugo Areas.
REMARKS: Message printed on 1 (c) J 1, Standard Surrender Leaflet, at the request of Major Anderson. These will be used when the position of the Nips becomes desparate--not before. Suggest use of leaflet 38 J 6 before using this one.
TEXT:
Front: Standard Surrender Leaflet
Reverse:
HEADLINE: To the gallant Japanese in the Agoo, Pongpong and Pugo Areas:
You have been under heavy artillery fire and air attack. Your food is not sufficient for Japanese soldiers and your ammunition is limited. You have no air support or naval support whatever. Despite all this you have fought bravely.
We admire your gallantry against great odds. We bow to your courage and determination. Nevertheless, your position will be hopeless when a full scale attack is launched. So again we tell you the truth about ourselves.
We do not wish to kill you. Again we promise you that Americans obey International Law and treat those of you who come to an agreement with us with the dignity befitting a brave soldier.
This paper is your safe-conduct pass to the American lines. Throw away your arms; put this paper or a white rag on the end of a stick and walk to the south. When you reach our lines, hold your hands high, and follow the signals of our soldiers. You will receive food, clothing and medical attention, and kind treatment. Several of you can use one leaflet, provided you all follow these instructions.
Leaflet No. 12-J-1
Pipe Line
The dramatic visualization of the Allied disruption of oil supplies to Japan, alongside an American flag planted in the Philippines, was used in this leaflet to demoralize Japanese soldiers. As on leaflet 6-J-1, the verso text refers to Japanese navy aviators as "wild eagles," here emphasizing that their disappearance from the sky is a result of Japan's lack of oil and America's advancing victories.
Frontside of Leaflet
油の一滴は血の一滴 [A drop of oil equals a drop of blood]
最後の一滴!! [The last drop!!]
Backside of Leaflet
荒鷲と油
諸君の頼みとする荒鷲が最近その姿を以前程に現さなくなつたのに對し諸君は不審の念を抱いてゐるかも知れないが一慨に搭乗員ばかりを責めるのは正當ではないだらう。 それは最近米軍の比島上陸により新しい 況が齋らされたからである。 米軍比島進攻により日本は油の補給問題に多大な打撃を被らざるを得なくなつた。日本と南洋を結ぶ補給路は切断されてゐる。と云ふのは比島を基地とせる聯合軍の航空機、艦艇、及び潜水艦が油及びその他重要物資を滿載せる日本船舶を撃沈しつヽあるからである。 諸君の荒鷲が聯合軍の連續的な空爆に對し何ら反撃を加へ樣としないのは油の節約に心を置いて居る爲ではなからうか。
Leaflet Documentation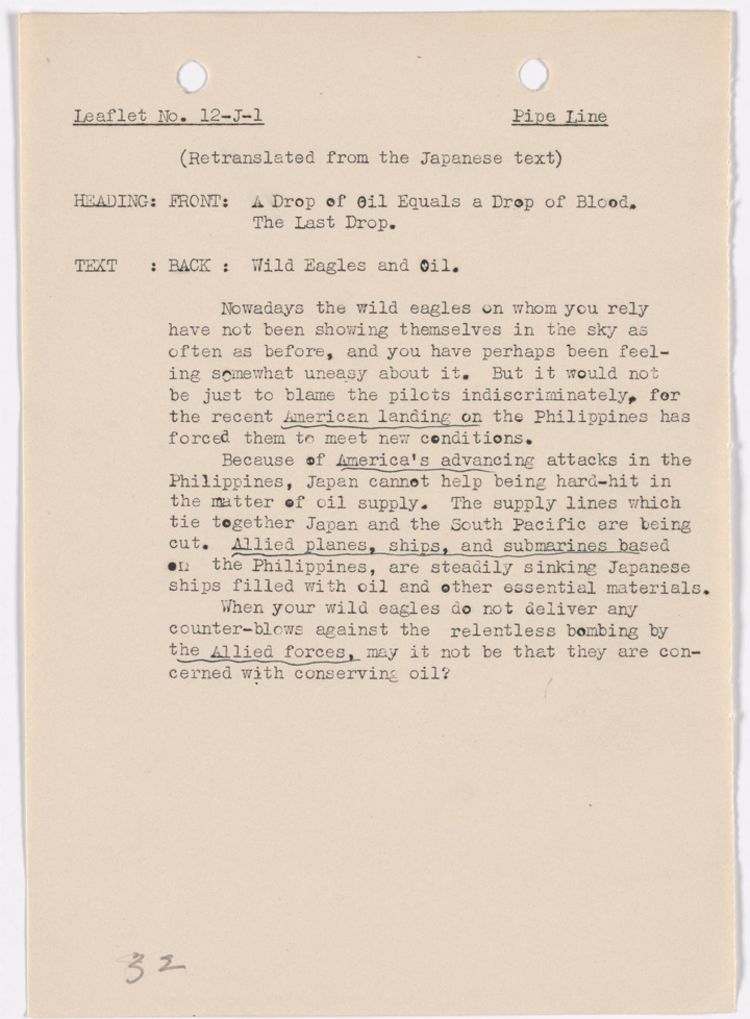 Leaflet no. 12-J-1 Pipe Line
(Retranslated from the Japanese text)
HEADING: FRONT: A Drop of Oil Equals a Drop of Blood. The Last Drop.
TEXT: BACK: Wild Eagles and Oil.
Nowadays the wild eagles on whom you rely have not been showing themselves in the sky as often as before, and you have perhaps been feeling somewhat uneasy about it. But it would not be just to blame the pilots indiscriminately for the recent American landing on the Philippines has forced them to meet new conditions.
Because of America's advancing attacks in the Philippines, Japan cannot help being hart-hit in the matter of oil supply. The supply lines which tie together Japan and the South Pacific are being cut. Allied planes, ships, and submarines based on the Philippines, are steadily sinking Japanese ships filled with oil and other essential materials.
When your wild eagles do not deliver any counter-blows against the relentless bombing by the Allied forces, may it not be that they are concerned with conserving oil?
Leaflet No. 10-J-1
Japan's Life Line
General MacArthur, standing over southern Philippine islands, and Admiral Nimitz, aboard an aircraft carrier, tighten a rope that is constraining the flow of supplies to Japan. The message of this leaflet is clear both visually and in the text: that the Japanese are being cut off from supplies and cannot hope to achieve victory. Raising awareness of the dire supply situation for the Japanese soldiers in late 1944, this leaflet attempted to provide a common-sense reason for surrender—the lack of supplies.
Frontside of Leaflet
生命線の危機 [Life Line in Danger]
Backside of Leaflet
勝敗の鍵
同盟通信 は去る十一月七日次の樣に述べた。 即ち、  
「日本がレイテ島を失ふ事は我が南洋輸送航路に多大の障害を來すものであり、南方内地間の資源輸送船舶に對し脅威を齎らすものであらう」と。
この豫言が如何に正確であつたかは其の後の戰局の展開が物語つてゐる。  
今や比島の新基地を獲得したマツカーサー、ニミツ兩大將の率ひる陸海空軍の全力は自由自在に活動するに到つた。それ故日本々土と南洋とを結ぶ 路は漸次壓縮されて行くのである。  
生命線と云はれて居るこの水路が切斷せられる事に依り日本の船舶が釘づけられる日も遠くはあるまい。  
間もなく航空機に缺ぐべからざる燃料さへも不足を來すのではないだらうか。又軍需品に必要なゴム、錫、その他の重要物資も補給困難に陷るであらう。  
如何に い兵隊でも兵站線さへも確保出來ない戰線では充分な働きが出來ないたらう。
Leaflet Documentation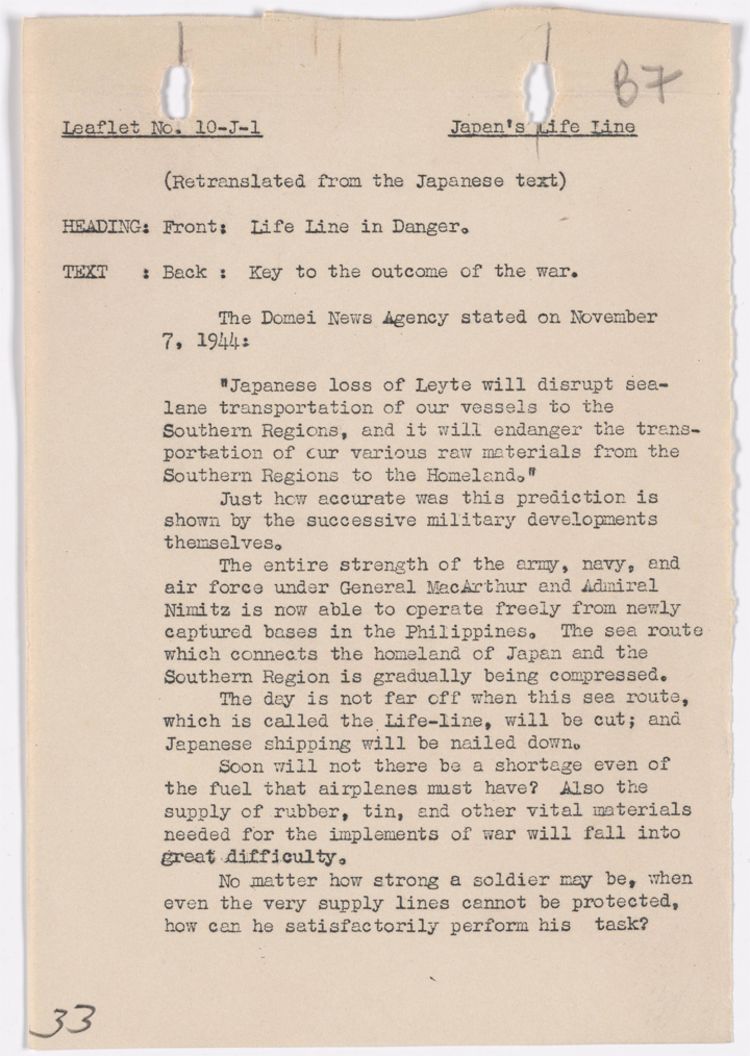 Leaflet No. 10-J-1 Japan's Life Line
(Retranslated from the Japanese text)
HEADING: Front: Life Line in Danger.
TEXT : Back: Key to the outcome of the war.
The Domei News Agency stated on November 7, 1944:
"Japanese loss of Leyte will disrupt sea-lane transportation of our vessels to the Southern Regions, and it will endanger the transportation of our various raw materials from the Southern Regions to the Homeland."
Just how accurate was this prediction is shown by the successive military developments themselves.
The entire strength of the army, navy, and air force under General MacArthur and Admiral Nimitz is now able to operate freely from newly captured bases in the Philippines. The sea route which connects the homeland of Japan and the Southern Region is gradually being compressed.
The day is not far off when this sea route, which is called the Life-line, will be cut; and Japanese shipping will be nailed down.
Soon will not there be a shortage even of the fuel that airplanes must have? Also the supply of rubber, tin, and other vital materials needed for the implements of war will fall into great difficulty.
No matter how strong a soldier may be, when even the very supply lines cannot be protected, how can he satisfactorily perform his task?
Leaflet No. 4-J-1
Clock (aka Japan's Hour of Doom)
The clock in this leaflet is designed with islands where Japan has been defeated in the places of traditional numbers on its face. Its proclamation that the "hour is drawing near" reinforces the visual message that time is running out before Japan itself is invaded and falls. This was a demoralizing leaflet that encouraged Japanese soldiers to consider the risk of death in the face of an all-but-guaranteed Allied victory. Produced for the US First Army in a run of 50,000, these leaflets were 5.25 x 8.25 in. and were distributed in late 1944.
Frontside of Leaflet
時は迫れり!! [The Hour is Drawing Near!]
Instead of numbers, islands where the Japanese have been defeated appear on the clock face. Starting at 1 o'clock:
Guadalcanal
Bougainville
Tarawa (Kiribati)
Marshall Islands
Admiralty Islands
New Guinea
Saipan
Guam
Palau
The minute hand rests on the Philippines, indicating the current battle underway there. The hour hand rests on Japan (at the 12 o'clock position) indicating it is the next and final target.
Backside of Leaflet
故郷を離れた將兵諸君
東京首腦部では此の戰爭の實狀を詳細に亘り良く理解して居る。其の例を擧ぐれば 一、現況の續く限り最後の敗北を喫せざるやも推かり知れぬ。(東京無電 昭和十九年七月三十一 日)
二、全般的戰況に對して充二分に進行して居ると思ふ事は出來ない、敵が我が内部防衛線に近づくに從ひ我々は益々困難になるのみである。(米内海相昭和十九年九月七日)
三、聯合軍の吾本土上陸の可能性を念頭に置くべきである。(小磯首相 昭和十九年九月七日)

右東京當局聲明は果して何を意味するものだらうか。それは諸君の戰友が太平洋各地に於て惡戰苦鬪して來たにも係らず聯合軍の大進撃は着々と日本々土に向ひ進行しつゝある事を意味するものである。
野望逞しい軍部當局は最早や自己の犯した誤算を包み隠し切れない時が來た、然も勝運なきと知り乍ら己の面目保持の爲に諸君をなほ徒らに犬死させんとしてゐる軍部當局は果して正道を踏みつゝあると言ひ得るだらうか。
Leaflet Documentation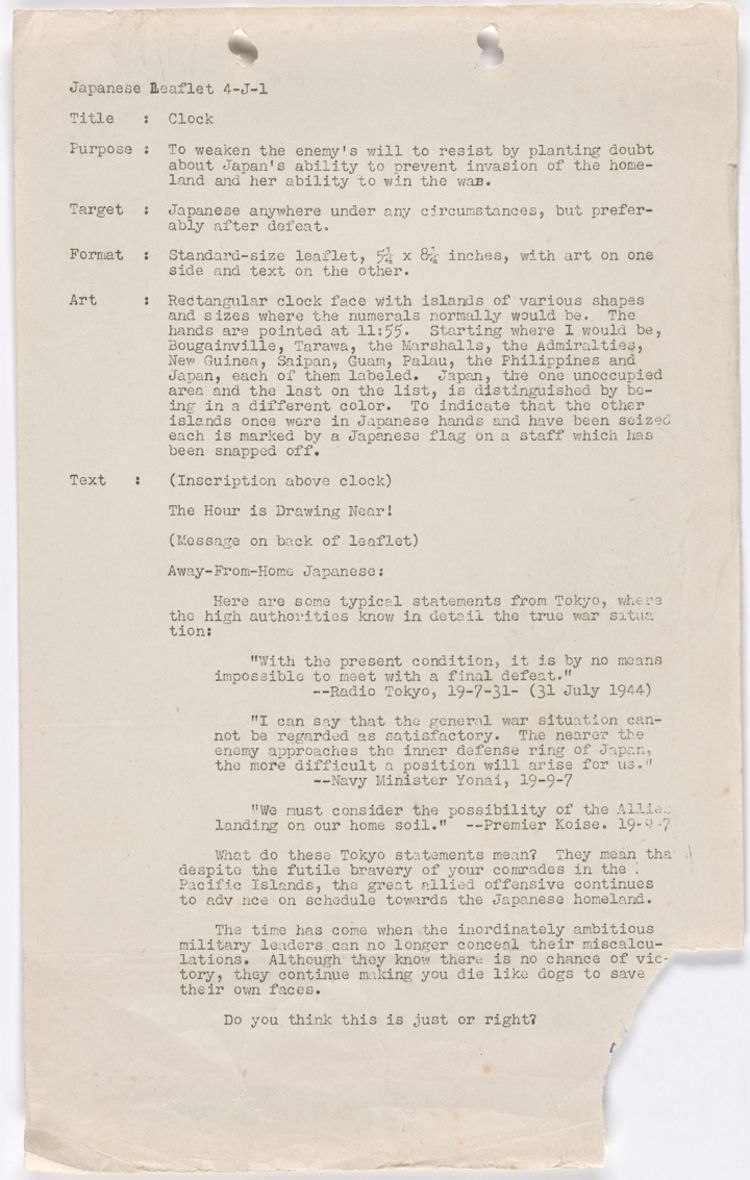 Japanese Leaflet 4-J-1
TITLE: Clock
PURPOSE: To weaken the enemy's will to resist by planting doubt about Japan's ability to prevent invasion of the homeland and her ability to win the war.
TARGET: Japanese anywhere under any circumstances, but preferably after defeat.
Format: Standard-size leaflet, 5 1/4 x 8 1/4 inches, with art on one side and text on the other.
Art: Rectangular clock face with islands of various shapes and sizes where the numerals normally would be. The hands are pointed at 11:55. Starting where I would be, Bougainville, Tarawa, the Marshalls, the Admiralties, New Guinea, Saipan, Guam, Palau, the Philippines, and Japan, each of them labeled. Japan, the one unoccupied area and the last on the list, is distinguished by being in a different color. To indicate that the other islands once were in Japanese hands and have been seized each is marked by a Japanese flag on a staff which has been snapped off.
Text: (Inscription above clock) The Hour is Drawing Near!
(Message on back of leaflet) Away-From-Home Japanese:
Here are some typical statements from Tokyo, where the high authorities know in detail the true war situation:
"With the present condition, it is by no means impossible to meet with a final defeat." -- Radio Tokyo, 19-7-31- (31 July 1944)
"I can say that the general war situation cannot be regarded as satisfactory. The nearer the enemy approaches the inner defense ring of Japan the more difficult a position will arise for us." -- Navy Minister Yonai, 19-9-7
"We must consider the possibility of the Allies landing on our home soil." --Premier Koise. 19-9-7
What do these Tokyo statements mean? They mean that despite the futile bravery of your comrades in the Pacific Islands, the great allied offensive continues to advance on schedule towards the Japanese homeland.
The time has come when the inordinately ambitious military leaders can no longer conceal their miscalculations. Although they know there is no chance of victory, they continue making you die like dogs to save their own faces.
Do you think this is just or right?
Leaflet No. 9-J-1
Truth of Leaders
Graphically bold and eye-catching, this leaflet is an attempt to disillusion Japanese soldiers and encourage their surrender. It compares the propagandistic statements made by Japanese leaders on Radio Tokyo to the reality the Japanese soldiers were facing in the field and encourages readers to come to their own conclusions about the disparity. Though the messaging is clear, the leaflet creators highlighted cases when Japanese leaders misled their people.
Frontside of Leaflet
ラジオ東京 [Radio Tokyo]
米國艦隊太平洋に姿を見せず。(昭和拾七年二月二拾五日)
["The Americans apparently have no fleet left in the Pacific." (25 February 1942)]  
帝國海軍は實質上敵勢力を撃滅した。(昭和拾七年五月九日) ["The Japanese fleet has virtually destroyed the enemy forces." (9 May 1942)]
米英蘭の総艦隊は全滅した。今や太平洋の制海權は日本のものである。(昭和拾七年九月二拾八日)  ["All American, British and Dutch fleets have been wiped out. The Japanese navy dominates the Pacific." (28 September 1942)]
我軍は米艦隊の主勢力を撃滅した。(昭和拾八年拾一月廿日) ["Japanese forces have wiped out the cream of the American fleet." (20 November 1943)]
Backside of Leaflet
百聞一考しかず?
諸君が戰爭ニュースに接する時或は次の如き疑問を抱く樣な事はないたろうか。  
若し米國艦隊が昭和拾七年と同拾八年に実質上撃滅されて居るものであるならば如何して日海軍は聯合軍のソロモン、ニューギニア、サイパン、等の奪還占領を阻止し得なかつたであらうか。  
若し米艦隊の主勢力が全滅したのならば果して米軍が物資兵力を海路一萬余キロの比島に揚陸せしめ得たであらうか。  
若し聯合軍が比島沖海戰に於て致命的打撃を蒙つたのならば米軍が續々兵力を比島に上陸せしめ戰果を同諸島に擴張せしめつゝあるのは如何してであらうか。
どうして日海軍は米艦隊に比島近海の制海權を恣にさせて居るのであらうか。  
諸君がこの樣な点を熟慮された場合軍部當局の戰況發表でも尤もだと思はれる事ばかりではないのではないだろうか。
Leaflet Documentation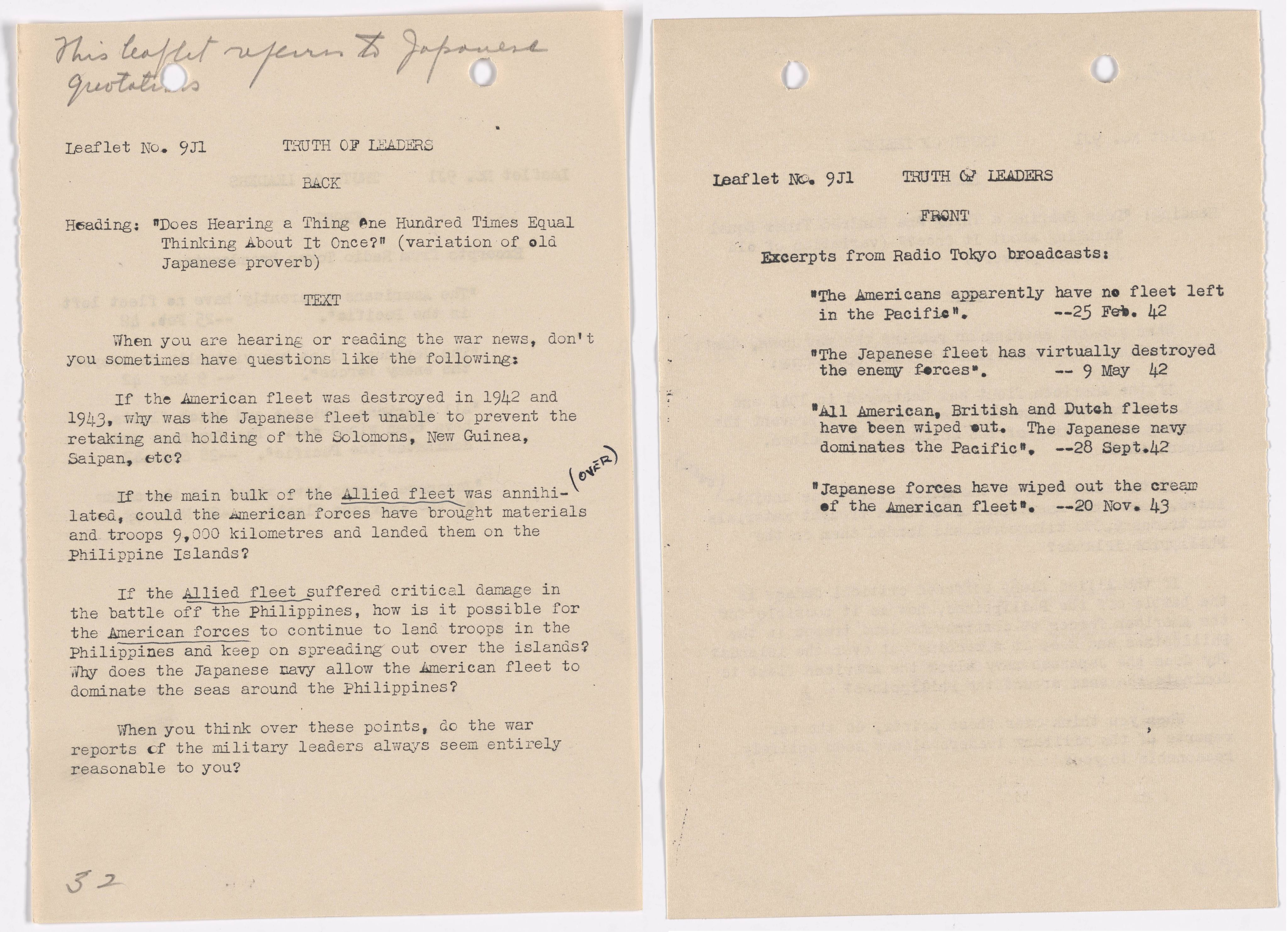 Leaflet No. 9J1 TRUTH OF LEADERS
BACK
Heading: "Does Hearing a Thing one Hundred Times Equal Thinking About It Once?" (variation of old Japanese proverb)
TEXT
When you are hearing or reading the war news, don't you sometimes have questions like the following:
If the American fleet was destroyed in 1942 and 1943, why was the Japanese fleet unable to prevent the retaking and holding of the Solomons, new Guinea, Saipan, etc?
If the main bulk of the Allied fleet was annihilated, could the American forces have brought materials and troops 9,000 kilometres and landed them on the Philippine Islands?
If the Allied fleet suffered critical damage in the battle off the Philippines, how is it possible for the American forces to continue to land troops in the Philippines and keep on spreading out over the island? Why does the Japanese navy allow the American fleet to dominate the seas around the Philippines?
When you think over these points, do the war reports of the military leaders always seem entirely reasonable to you?
FRONT
Excerpts from Radio Tokyo broadcasts:
"The Americans apparently have no fleet left in the Pacific." --25 Feb. 42
"The Japanese fleet has virtually destroyed the enemy forces." -- 9 May 42
"All American, British and Dutch fleets have been wiped out. The Japanese navy dominates the Pacific." --28 Sept.42
"Japanese forces have wiped out the cream of the American fleet." --20 Nov. 43

---
The Hoover Institution Library & Archives has placed copies of these works online for educational and research purposes. If you would like to use any of these works, you are responsible for making your own legal assessment and securing any necessary permission. If you have questions about this resource or have concerns about the inclusion of an item, please contact the Hoover exhibits team. For more information about rights and permissions please visit:https://www.hoover.org/library-archives/collections/get-help/rights-and-permissions.