The Fanning the Flames Project
Fanning the Flames: Propaganda in Modern Japan presents visual testimony, supported by cutting-edge scholarly research, to demonstrate the power of graphic propaganda and its potential to reach broad audiences without raising their consciousness perhaps to dangerous effect. The Hoover Institution Library & Archives is pleased to present a curated selection of compelling material on the history of modern Japanese propaganda from our rich collections. Central to this project are fresh academic perspectives on select topics. We were fortunate to receive contributions from the world's top scholars in the fields of Chinese history, the Japanese military, the media, intelligence, and art history.
This ambitious project encompasses the Meiji Era (1868–1912) through to the Pacific theater of World War II (1941–45), a period of increasingly intense propaganda activities in the Empire of Japan. By studying multiple types of graphic media over time, we hope to better understand underlying themes and discover the unique nature of Japanese propaganda from one historical moment to another, as well as its continuity over time. The theses generated by the contributors highlight not only the top-down delivery of propaganda, its pervasive influence on ordinary people, particularly young children, and the muscle of the media, but also grassroots participation in the consumption of propaganda.
Hoover Institution Library & Archives
Founded by Herbert Hoover in 1919, the Hoover Institution Library & Archives at Stanford University is dedicated to documenting war, revolution, and peace in the twentieth and twenty-first centuries—with holdings of nearly one million volumes and more than six thousand archival collections from 171 countries.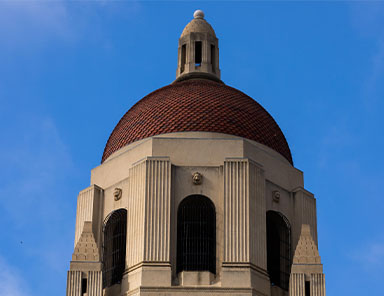 The mission of the Hoover Institution Library & Archives (HILA) is to collect, preserve, and make available the most important materials about global political, social, and economic change in the twentieth and twenty-first centuries. We serve as a platform for a vibrant community of scholars and a broad public interested in the meaning and role of history.
All activities at the Library & Archives are carried out with Herbert Hoover's words in mind:
"The overall mission of this Institution is, from its records, to recall the voice of experience against the making of war, and by the study of these records and their publication, to recall man's endeavors to make and preserve peace, and to sustain for America the safeguards of the American way of life. This Institution is not, and must not be, a mere library. But with these purposes as its goal, the Institution itself must constantly and dynamically point the road to peace."
The Fanning the Flames Project Team
Contributing Hoover Institution Colleagues
Many people were instrumental in the success of this project. The core project team would like to thank the following staff members for their hard work and dedication:
Director of the Library & Archives: Eric Wakin
Research, Education, Operations: Jean Cannon; Simon Ertz; Erik Lunde; Ray Pun; Liz Phillips; Maryann Villavert
Public Services: Sarah Patton; David Sun
Preservation: Laura Bedford; Brittany Bradley; James Fayne; Rayan Ghazal; Kurtis Kekkonen; Max Siekierski; Colin Stinson
Digital: Haidar Hadi; Fiore Irving; Lisa Nguyen; Sang suk Shon; Emma Stanford; Spencer Zidarich
Description: Sarah Cassone; Emily Gibson; Michael Herrick; Talia Olshefsky; Rhea Taylor; Tanya Yule
Hoover Press: Barbara Arellano; Danica Hodge; Alison Law
Hoover Events: Michelle Araujo; Betsy Phillips; Janet Smith
Hoover Marketing: Shana Farley; Maryem Torabi
And many others!
Fanning the Flames: Propaganda in Modern Japan
EDITED BY KAORU (KAY) UEDA
BUY BOOK
Propaganda shaped Japan during a time of dramatic cultural and political change, as a once isolated feudal country was transformed into an imperialist modern state. In Fanning the Flames: Propaganda in Modern Japan, essays by renowned experts probe and contextualize these potent arts, accompanied by rich illustrations from the celebrated collections of the Hoover Institution Library & Archives, including woodblock prints, photos, posters, and the rarely examined "paper plays" known as kamishibai. These materials build a cultural and visual narrative that charts the rise of an imperialist nation in flux, with old feudal customs and taboos giving way to rapid Western-influenced cultural, political, and technological modernization under the Meiji Restoration.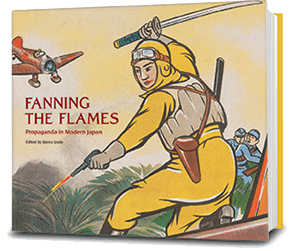 YUMA TOTANI, PROFESSOR OF JAPAN, UNIVERSITY OF HAWAI'I
"With experts' analyses on rich collections at the Hoover Institution Library & Archives, Fanning the Flames illuminates the vital roles that mass media has played— from the Meiji-era nishiki-e to the children's paper theater in the 1940s—in the creation of militant imperial Japanese subjects."
JUN UCHIDA, ASSOCIATE PROFESSOR OF HISTORY, STANFORD UNIVERSITY
"Drawing on Hoover's rich media archive, Fanning the Flames retells the history of Japan's modern warfare as driven and shaped by the power of spectacle: war spurred a revolution in visual technology and vice versa, in a compelling dialectic of propaganda and social control."